Kids Ministry at The Fire Church
At The Fire Church, our kids (infant through 6th grade) experience safe, age-appropriate environments where they learn about Jesus in creative and relevant ways.
We would love to see you and your family visit Fire Church Kids.
Your first visit
Here at The Fire Church we are passionate about raising up a generation of Kingdom minded children who love God, share his love with others and move in the power of the Spirit.
Our children today are our future businessmen, teachers, doctors, politicians, pastors, evangelists, authors, scientists, artists, musicians, and screenwriters. It's our mandate to go beyond taking care of the physical needs of our children, by making sure each child's spiritual and emotional needs are met as well.
We will not only protect each child physically, but strengthen them spiritually and emotionally in the truth of God's word so no weapon formed against them will prosper. Our training sessions include time in God's word, testimonies, worship, prayer, and prophetic ministry. Each session is geared towards effectively communicating the Gospel to children—incorporating fun and interactive lessons, and hands-on activities. It's really a whole lot of fun!
We believe that if we really train our children in Kingdom ways, they won't depart from it.
Questions? Contact Children's Minister Sharon Miner at sharon@globalfireministries.com.
"For the promise is for you and your children…" Acts 2:39
How check-in works
Upon checking in for the first time, we will ask for the following personal information (NOTE: We value your privacy and will not share this information with anyone):
Parent/guardian name(s)
Child's name
Child's birthdate
Phone number
Any special instructions (allergies, special needs) for your children
Before Service: You can check-in your child in their classroom 10 minutes before service begins. You and your child will be given matching tags that are exclusive to your family and your visit.
After Service: After the service is complete, you will return to your child's room and show your tag in order for your child to be released back to you. Pick up time is 12:15pm on Sundays and 9:15pm on Wednesdays.
During Service: In the event that we need to contact you during the service, we will text you or your child's identification code will appear on the screen. We ask that you exit the auditorium immediately and look for a staff member or volunteer who will direct you to your child's room.
Sign me up to receive Kids Ministry emails
Meet our Children's Pastor
Sharon Miner joined the The Fire Church leadership team in 2011 as the Children's Pastor.
Originally from Little Falls, NJ, Sharon studied at Southeastern College. She has been involved in Children's Ministry for over twenty years, serving churches in Florida and Alabama. Her passion is to see children know Jesus personally, minister in the gifts of the Spirit, and move in the power of the Spirit. She is gifted in teaching, ministry and leadership development. Children who have been raised up in her ministry are faithfully serving the Lord as teens and adults. Her passion for the Lord and children is contagious.
Sharon is currently, and has always been, awesome.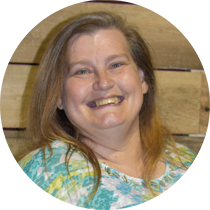 Got questions?
If you have further questions concerning our Fire Church Kids experience or visiting The Fire Church with children, simply click the button below and get in touch with us!